Shankar Shad Mushaira, the famous poetry event, was held at Modern School Barakhamba Road in Delhi on its 54th anniversary. This tradition began in 1954 and has been going on ever since. Renowned poets like Sahir Ludhianvi, Jan Nisar Akhtar, Kaifi Azmi, Faragh Gorkhpuri, Ali Sardar Jafri, Ahmed Faraz, Bekal Utsahi, Rahat Indori, and Javed Akhtar have recited their poetry at the Shankar Shad Mushaira, receiving high acclaim from the audience.
The Shankar Shad Mushaira has been taking place in the Shankar Hall of the Modern School since its inception. The Chairman of the DCM Group, Lala Bharat Ram, had revealed in 1998 at his bungalow on 23 Sardar Patel Marg that his father and the founder Chairman of the DCM Group, Lala Shri Ram, wished for an annual poetry event to be held in Delhi under the name Shankar Shad. He had invited renowned poet Josh Malihabadi, Hindi's leading author Ram Dhari Singh Dinkar, Delhi's Commissioner V. Shankar, and some other business associates to his home, where it was decided that an event would be held every year under the name Shankar Shad Mushaira, featuring poets from India and, if possible, Pakistan.
This year's event was a huge success, bringing together poetry lovers from all over the region. This has become an integral part of Delhi's cultural landscape, showcasing the best of poetry and literature from India and beyond.
---
Comments from people about the event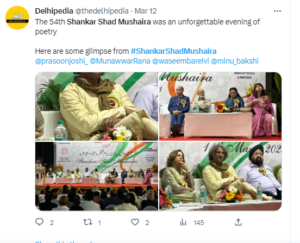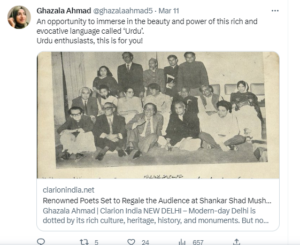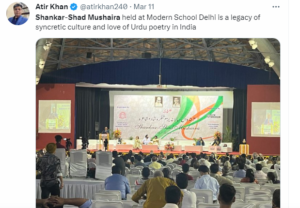 شنکر شاد مشاعرہ دہلی میں ماڈرن اسکول براکھمبا روڈ میں منعقد ہوا۔ یہ سلسلہ 1954میں شروع ہوا تھا اور تب سے بدستور جاری ہے۔ شنکرشاد مشاعرے میں ساحر لدھیانوی، جاںنثاراختر، کیفی اعظمی، فراق گورکھپوری، علی سردار جعفری، احمدفراز، بیکل اتساہی، راحت اندوری، جاوید اختر جیسے نامور شاعروں نے اپنا کلام پڑھ کر سامعین کی بھرپور داد وتحسین حاصل کی ہے۔ شنکرشاد مشاعرہ شروع سے ہی ماڈرن اسکول کے شنکرہال میں ہورہا ہے۔ ڈی سی ایم گروپ کے چیئرمین لالہ بھرت رام نے اس خاکسار کو 1998 میں اپنے 23سردار پٹیل مارگ کے بنگلے میں بتایا تھا کہ ان کے والد اور ڈی سی ایم گروپ کے فائونڈر چیئرمین لالہ شری رام چاہتے تھے کہ دہلی میں ہر سال شنکرشاد نام سے ایک مشاعرہ ہو۔ انہوں نے مشہور شاعر جوش ملیح آبادی، ہندی کے چوٹی کے ادیب رام دھری سنگھ دینکر، دہلی کے کمشنر وی شنکر اور اپنے کچھ اور کاروباریوں کو اپنے گھرمیں بلایا تھا۔ وہاں پر طے کیا گیا تھا کہ ہر سال ایک مشاعرہ ہو جس میں ہندوستان اور ہوسکے تو پاکستان کے بھی شاعر آئیں۔ تب سے ہی شنکرشاد مشاعرہ چل رہا  ہے-
 Some Words From The Organizer And Poets