Brace yourself for a mesmerizing literary celebration. The 7th edition of Faiz's poetry collection is to be held in the picturesque city of Pakistan Lahore, providing an opportunity to relish in the masterful works of one of the most renowned poets of our time. Don't miss this chance to be entranced by the lyrical magic of Faiz's words. The festival, organized by the Faiz Organization in collaboration with the Lahore Arts Council, will take place from February 17th to 19th at the Alhamra Art Center.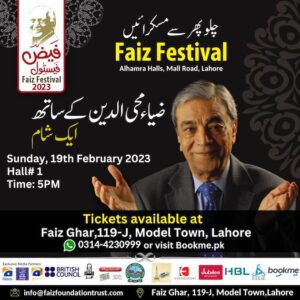 There will be a line-up of personalities, sessions, and music at the festival, including performances by Shafqat Amanat Ali, Laal Band, and Rizwan Wali Muhammad, the son of the late popular singer Wali Muhammad. Zia Mohyeddin will do readings and recite Faiz's poetry. Farah Yasmin Sheikh is especially coming from San Francisco, USA, with her troupe to perform Kathak, while classical dancers Adnan Jahangir and Yousaf Kerai will also be performing.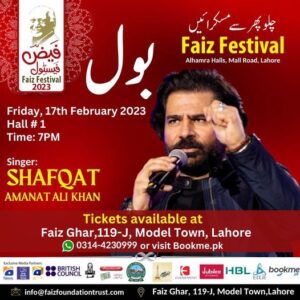 Zehra Nigah will be in conversation with Dr. Arfa Sayeda Zehra about Faiz. Tributes will be paid to Nayyara Noor, including a talk by Arshad Mehmood, Khawja Najam, and Sheheryar Zaidi, and a performance by singers from Karachi who will sing popular songs sung by Nayyara Noor, composed and directed by Arshad Mehmood.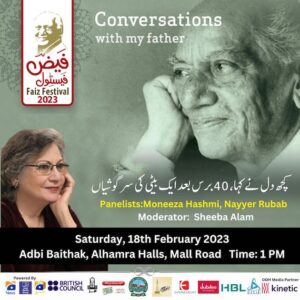 There will also be a tribute to the PTV's popular show Such Gup, with skits featuring the same artists, including Navid Shahzad, Salima Hashmi, Arshad Mehmood, Irfan Khoosat, and Adeel Hashmi. A tribute to Bushra Rehman will also be included. Seven book launches are planned for the festival. Don't miss this opportunity to immerse yourself in the world of Faiz's poetry and pay tribute to some of the greatest literary figures of our time
NOTE: All events are free and open for all, except for:
1- Zia Mohyeddin's Performance
2- Shafqat Amanat Ali Khan's concert
Tickets available at
Faiz Ghar, 119-J, Model Town, Lahore
You can also purchase tickets online via Bookme. pk
Download complete 3 Day Schedule here