Saadat Hussain Manto was a renowned Urdu writer and author of the early to the mid-20th century. His writings, reflecting his time's political and social issues, were characterized by sharp observations of society and human behavior. Manto's political views were nuanced and complex, as evident from his works. He was critical of the political establishment and the ruling class, often depicting them as corrupt and oppressive. For instance, in his famous short story "Toba Tek Singh," Manto satirized the absurdity of the India-Pakistan partition and criticized the political leaders responsible for it. Similarly, in "Khol Do," he portrayed the trauma of ordinary people caught up in the violence of Partition and criticized the politicians' inability to prevent it.
However, Saadat Hussain Manto recognized the complexity of politics and the challenges of governing a diverse and divided society. He expressed a more nuanced view of politics and politicians in his non-fiction writing, such as in his essay "A Tale of Two Leaders," where he compared and contrasted the leadership styles of Gandhi and Jinnah, acknowledging the strengths and weaknesses of each.
In conclusion, Manto's political views were shaped by his experiences of living in a tumultuous and rapidly changing society. He was critical of the abuse of power and the suffering it caused, while also recognizing the need for effective leadership. Through his writing, Manto continues to be a voice of reason and a critique of the political status quo.
---
لیڈر جب آنسو بہا کر لوگوں سے کہتے ہیں کہ مذہب خطرے میں ہے تو اس میں کوئی حقیقت نہیں ہوتی۔ مذہب ایسی چیز ہی نہیں کہ خطرے میں پڑ سکے، اگر کسی بات کا خطرہ ہے تو وہ لیڈروں کا ہے جو اپنا اُلّو سیدھا کرنے کے لئے مذہب کو خطرے میں ڈالتے ہیں
Leader jab ansoo baha kar logon se kehte hain ke mazhab khatre mein hai to us mein koi haqeeqat nahi hoti. Mazhab aisi cheez hi nahi ke khatre mein par sakti hai, agar kisi baat ka khatra hai to woh lideron ka hai jo apna ullu seedha karne ke liye mazhab ko khatre mein daalte hain
---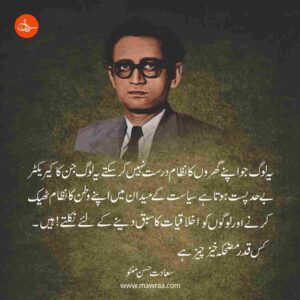 یہ لوگ جو اپنے گھروں کا نظام درست نہیں کر سکتے، یہ لوگ جن کا کیریکٹر بے حد پست ہوتا ہے، سیاست کے میدان میں اپنے وطن کا نظام ٹھیک کرنے اور لوگوں کو اخلاقیات کا سبق دینے کے لئے نکلتے !ہیں۔ کس قدر مضحکہ خیز چیز ہے
Yeh log jo apne gharoon ka nizaam durust nahi kar sakte, yeh log jin ka character behad past hota hai, siyaasat ke maidan mein apne watan ka nizaam theek karne aur logon ko akhlaqiat ka sabak dene ke liye nikalte hain! Kis qadar mazakha khaiz cheez hai
---
سیاست اور مذہب کی لاش ہمارے نامور لیڈر اپنے کاندھوں پر اٹھائے پھرتے ہیں اور سیدھے سادے لوگوں کو جو ہر بات مان لینے کے عادی ہوتے ہیں یہ کہتے پھر تے ہیں کہ وہ اس لاش کو از سر نو زندگی بخش رہے ہیں
"Siyaasat aur mazhab ki laash hamare naamwar leaders apne kandhon par uthay phirte hain aur seedhay saday logon ko jo har baat maan lene ke aadi hote hain, yeh kehte phirte hain ke woh iss laash ko az sar-e-nau zindagi baksh rahe hain."
---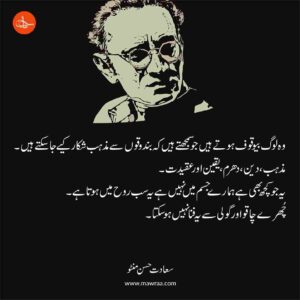 وہ لوگ بیوقوف ہوتے ہیں جو یہ سمجھتے ہیں کہ بندوق سے مذہب شکار کیے جاسکتے ہیں مذہب ، دین ، دھرم، یقین، اور عقیدت۔ یہ جو کچھ بھی ہمارے جسم میں نہیں ہے یہ سب روح میں ہوتا ہے۔ چُھرے، چاقو اور گولی سے یہ فنا نہیں ہوسکتا
"Woh log bewaqoof hote hain jo yeh samajhte hain ke bandooq se mazhab shikaar kiye jaa sakte hain, mazhab, deen, dharm, yaqeen aur aqeedat. Yeh jo kuch bhi humare jism mein nahi hai, yeh sab rooh mein hota hai. Chhure, chaku aur goli se yeh fana nahi ho sakta."
---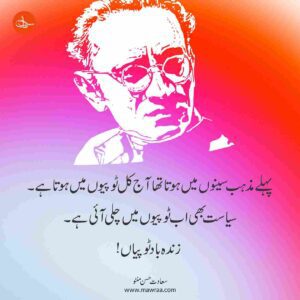 پہلے مذہب سینوں میں ہوتا تھا۔ آج کل ٹوپیوں میں ہوتا ہے ۔ سیاست بھی اب ٹوپیوں میں چلی آئی ہے
!زند باد ٹوپیاں
"Pehle mazhab seenon mein hota tha. Aaj kal topiyo mein hota hai. Siyasat bhi ab topiyo mein chali aayi hai. Zindabad topiyan!"
---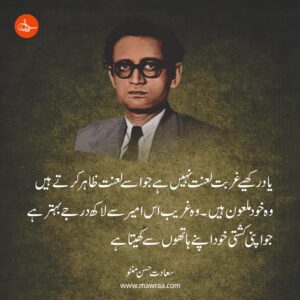 یاد رکھیے غربت لعنت نہیں ہے جو اسے لعنت ظاہر کرتے ہیں وہ خود ملعون ہیں۔ وہ غریب اس امیر سے لاکھ درجے بہتر ہے جو اپنی کشتی خود اپنے ہاتھوں سے کھیتا ہے
Yaad rakhiye, ghurbat lanat nahi hai. Jo use lanat zaahir karte hain, woh khud mala'un hain. Woh ghareeb us ameer se lakh darjay behtar hai, jo apni kashti khud apne haathon se kheeta hai.
---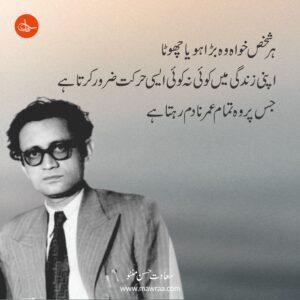 ہرشخص خواہ وہ بڑا ہو یا چھوٹا اپنی زندگی میں کوئی نہ کوئی ایسی حرکت ضرور کرتا ہے جس پر وہ تمام عمر نادم رہتا ہے
Har Shakhs khawah woh bara ho ya chhota, apni zindagi mein koi na koi aisi harkat zaroor karta hai jis par woh tamam umar nadim rehta hai
---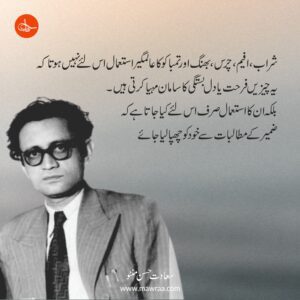 شراب، افیم، چرس، بھنگ اور تمباکو کا عالمگیر استعمال اس لئے نہیں ہوتا کہ یہ چیزیں فرحت یا دل بستگی کا سامان مہیا کرتی ہیں۔ بلکہ ان کا استعمال صرف اس لئے کیا جاتا ہے کہ ضمیر کے مطالبات سے خود کو چھپا لیا جائے
Sharaab, afim, chars, bhang aur tambaku ka aalamegeer istemaal is liye nahi hota ke yeh cheezein farhat ya dil bastagi ka samaan mehia karti hain. Balkay un ka istemaal sirf is liye kiya jata hai ke zameer ke mutalibaat se khud ko chhupa liya jaye
---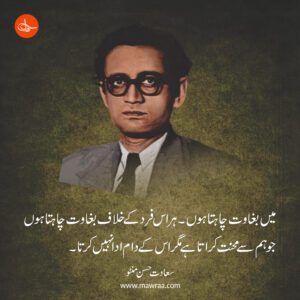 میں بغاوت چاہتا ہوں۔ ہر اس فرد کے خلاف بغاوت چاہتا ہوں جو ہم سے محنت کراتا ہے مگر اس کے دام ادا نہیں کرتا
Main baghaawat chahta hoon. Har us fard ke khilaaf baghaawat chahta hoon jo hum se mehnat karata hai magar us ke daam ada nahin karta
---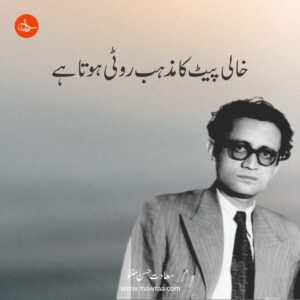 خالی پیٹ کا مذ ہب روٹی ہوتا ہے
Khali pait ka mazhab roti hota hai