Rumi is a famous poet and scholar who is widely regarded for his beautiful and insightful quotes about love/ attachment. Rumi's teachings and poetry are widely regarded as a timeless expression of the Sufi spiritual tradition, which emphasizes the direct personal experience of God through love and devotion. His works, which include the famous Masnavi, have been translated into many languages and continue to inspire millions of people around the world. Rumi passed away on December 17, 1273.  Here are some popular quotes from Rumi's works.
محبت یہ ہے، جب خدا تم سے کہتا ہے کہ میں نے سب کچھ تمہارے لیے پیدا کیا ہے اور آپ کہتے ہیں، میں نے سب کچھ خدا کے لیے چھوڑ دیا ہے
Mohabbat yeh hai, jab Khuda tum se kehta hai ke mein ne sab kuch tumhare liye paida kiya hai aur aap kehte hain, mein ne sab kuch Khuda ke liye chhod diya hai
---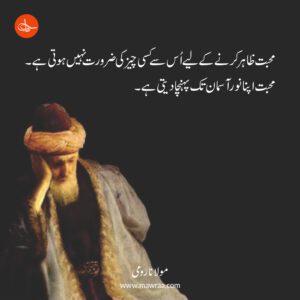 محبت ظاہر کرنے کے لیے اُس سے کسی چیز کی ضرورت نہیں ہوتی ہے. محبت اپنا نور آسمان تک پہنچا دیتی ہے
Mohabbat zahir karne ke liye us se kisi cheez ki zarorat nahi hoti hai. Mohabbat apna noor assman tak poncha deti hai
---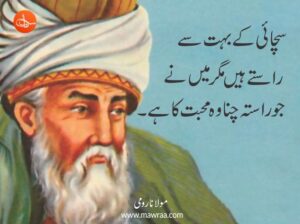 سچائی کے بہت سے راستے ہیں مگر میں نے جو راستہ چنا وہ محبت کا ہے
Sachi ke bahut se rastay hain magar mein ne jo rasta chuna wo mohabbat ka hai
---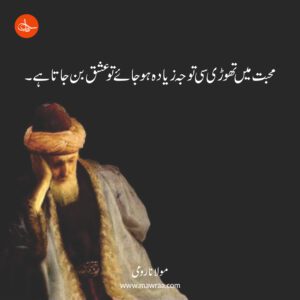 محبت میں تھوڑی سی توجہ زیادہ ہو جائے تو عشق بن جاتا ہے
Mohabbat mein thori si tawaja zaida ho jaye tou ishq ban jata hai
---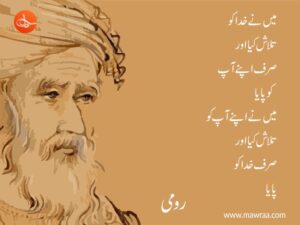 میں نے خدا کو تلاش کیا اور صرف اپنے آپ کو پایا میں نے اپنے آپ کوتلاش کیا اور صرف خدا کوپایا
Main ne Khuda ko talash kiya aur sirf apne aap ko paya. Main ne apne aap ko talash kiya aur sirf Khuda ko paya
---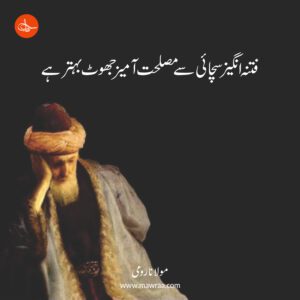 فتنہ انگیز سچائی سے مصلحت آمیز جھوٹ بہتر ہے
Fitna-angez sachai se maslihat-amiz jhoot behtar hai
---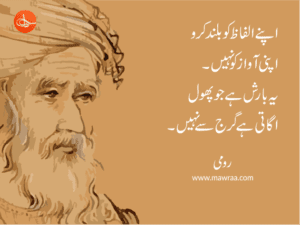 اپنے الفاظ کو بلند کرو، اپنی آواز کو نہیں۔ یہ بارش ہے جو پھول اگاتی ہے بادل کی گرج نہیں
Apne alfaaz ko buland karo, apni awaaz ko nahi. Yeh baarish hai jo phool ugati hai, baadal ki garaj nahi
---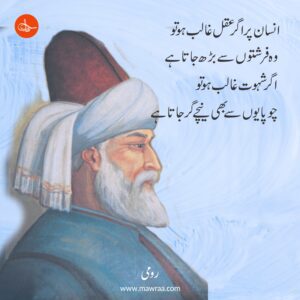 انسان پر اگر عقل غالب ہو تو وہ فرشتوں سے بڑھ جاتا ہے اگر شہوت غالب ہو تو چوپایوں سے بھی نیچے گر جاتا ہے
Insaan par agar aql ghalib ho to woh farishton se barh jata hai, agar shahwat ghalib ho to choppayon se bhi neechay gir jata hai
---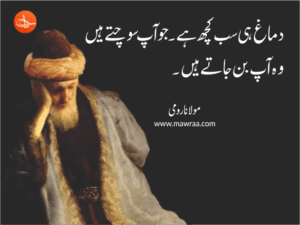 دماغ ہی سب کچھ ہے۔ جوآپ سوچتے ہیں وہ آپ بن جاتے ہیں
Damagh hi sab kuch hai jo aap sochtay hain wo ap ban jatay hain
---
اپنے آپ کو خاموشی سے اس عجیب و غریب چیز کی طرف متوجہ ہونے دیں جس سے آپ واقعی محبت کرتے ہیں۔ یہ آپ کو گمراہ نہیں کرے گا۔
Apne Aap Ko Khamoshi Se Iss Ajeeb o Ghareeb Cheez Ki Taraf Mutawajeh Hone Den Jis Se Aap Waqai Mohabbat Karte Hain. Yeh Aap Ko Gomrah Nahin Kare Ga.